pisces
Your Yearly Horoscope for
2022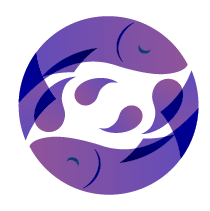 This is a year of looking inward, Pisces. Jupiter and Saturn begin the year together in your sector of spirituality and compassion. This means that you have a great opportunity for growth in this area if you're willing to do the necessary work. You are completing a cycle of outward growth, and so this is a wonderful time to finish up projects you have started working on previously, as Saturn traveled through your career and social sectors.
However, it is not the best time for starting new endeavors, as you are going through a shift now that will move you into a new phase in a few years when he crosses your ascendant. This year your ego will be able to open up, and you will be more available to your connection to the universe and all of the mysteries held there. It is also very likely that you may meet a teacher this year who can help you on this path or that you become that teacher for someone else.
You are also going through a phase right now where everything in your daily life is taking on more significance. This means that in all of your daily dealings, you are starting to see some opportunities for change. Your ways of thinking and communicating are going through a shift, which will take several years. However, you may notice things that happen unexpectedly that seem to be pushing you in a different (sometimes uncomfortable, perhaps) direction. These things could happen in such mundane tasks as running errands, daily business dealings, or even a phone call with your sibling or cousin.
Don't ignore anything that speaks to you- even in the most average of circumstances. If you ignore or disregard these signals and patterns that are appearing in your life right now, this energy will push harder and harder to be noticed, and in worst-case scenarios, can cause accidents if it is consistently suppressed. This could be a good time to get into scientific or technological pursuits, or also to get more into spiritual and occult practices like yoga or astrology or anything in between. Allow yourself to explore these new interests as part of this mental shift.
You also want to dig down into your ancestral roots to find more answers than you may find on your own. If you have felt disconnected from family and home, this year is the ideal time to put some energy into that part of your life to find more meaning in that area. You have the capacity right now to be very nurturing if you are willing to open up, and with that, you can make fundamental changes to your personal life.
You are likely to feel haunted this year by unresolved issues that you may perceive as failures or shortcomings, but do not allow yourself to become brooding and completely disconnected. Yes, it is a time for some soul-searching and self-evaluation, but you should always remember that you are part of something bigger and there are people who are there for you. The stars have spoken. If you are looking for more insights about your day or near future - check your daily tarot reading >>