capricorn
Your Yearly Horoscope for
2023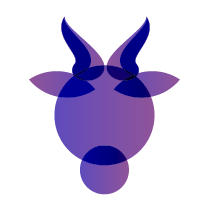 Saturn, your dominant planet, will be traveling across your sphere of money, values, and possessions for the next few years starting now. Fortunately, Jupiter's generosity is also present this year, which should ease the transitional period. While this trip has historically been linked to money difficulties, the primary focus here is on identifying your fundamental emotional and spiritual beliefs.
Sometimes people lose sight of what they desire in life because they are too preoccupied with the material aspects of life. If we become spiritually bankrupt, then no matter how many things we spend money on, we can never truly be happy.
Jupiter's conjunction with Saturn in this location gives you a chance to have a highly fortunate year and makes it easier to achieve your goals. Due to this, you must begin this year by performing two things. You must first take some time to picture a period in the future when you possess the assets you truly want. Wealth and material possessions are not generally included, though they can be. What is the most important thing to you? Thus Jupiter can assist you in meeting your requirements and send your wishes out into the universe.
It would therefore be wise to put your finances in order so that they are not a perpetual source of worry at the same time.
Make every effort to establish a budget, monitor your expenditures, and automate this area of your life as much as you can. You will be able to concentrate more clearly mostly on quasi-value systems, which have to be addressed as a result.
The risk would be that Saturn can try to solve your financial problems by causing you to lose money if you spend a lot of time worrying about money. Jupiter will likely make you wish to buy a few lovely things, which is OK, but ensure the items you buy are high quality and reflect your goals for the future. And please refrain from purchasing items only as symbols of status.
Additionally, you are experiencing a moment in your life where you are seeking new means of self-expression. You might start a wild contemporary romance or have increased, creatively imaginative spurts. If you do begin a fresh relationship, it might not survive very long, but it will undoubtedly be exciting and reveal new aspects of you.
When you're in a partnership, it could undergo a transformation or end because of unanticipated circumstances. Children are indeed a part of this circumstance as well, and those that you know may be acting out or requiring much of your attention right now.
These shifts can be unsettling for the steadfast Capricorn, so make an effort to follow the tide and discover which path the cosmos is attempting to steer you in. The universe has spoken. Examine your daily tarot reading to learn more about the day or the near future. The stars have spoken. If you are looking for more insights about your day or near future - check your daily tarot reading >>