libra
Your Yearly Horoscope for
2022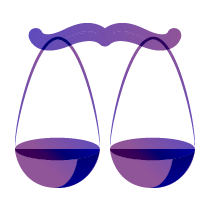 Your self-expression and creative life will undergo some fundamental shifts over this year. Even if you are not the artistic type, we all create something from our own vision throughout our lives, and there is even the possibility of hidden talents being developed. This is a year for learning more about what that is for you, and how to find the courage to truly be your unique self.
You have both Jupiter and Saturn in your sector of romance and fun this year, which means that you will have a lot of opportunity for these types of things, but you will have to navigate some frustrations as well. If you find that things are holding you back from expressing and enjoying yourself it will be necessary to examine your deeper motives and think about what it is you desire.
If you can work through some of the obstacles Saturn puts in your path, you can find great fulfillment in either a new or existing relationship. There is a chance you will meet someone new this year. They will likely be able to show you a new take on life that you had not considered before. Whatever happens in your relationship this year, it will be something that offers you lessons and growth for the future.
It is important this year not to avoid your responsibilities when it comes to things like your children if you have them, or just dealing with other people in general. If you put work into the people and projects that depend on you, you will see amazing results.
Over the summer, from about mid-May through July, Jupiter does step out of the fun and creative sector and dips his toes into the "daily grind" sector. This should offer you a glimpse at what is to come as far as your work situation. Perhaps there is a way that you can improve your working conditions, or just feel more fulfilled with your responsibilities. This should give you a sense of purpose and well-being in this area of your life.
You are undergoing some very fundamental changes in who you are right now, Libra. You may have already been experiencing some of this upheaval when it comes to some of your most basic subconscious habits. Perhaps it has to do with your level of intimacy with another, or with the way you depend on others' resources, or others depend on yours.
You are learning about your values right now, and there is an air of transformation surrounding you. There will be signs and events which make themselves apparent to you, guiding you on this new path. These changes you experience will have a strong impact in the years to come. Your mind is being drawn to the mysteries of life, and this is a wonderful time to open up to new philosophies or spiritual practices.
There is also a strong possibility that the karmic wheel will come around for you this year. Prepare to reap what has been sown. The stars have spoken. If you are looking for more insights about your day or near future - check your daily tarot reading >>