libra
Your Yearly Horoscope for
2023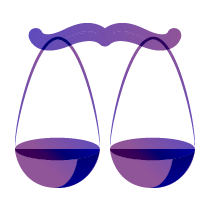 Over this year, your identity and artistic life will face some significant changes. Even if you don't consider yourself to be artistic, we all produce original work all through our lives, and it's even possible to discover hidden skills.
You will be presented with a lot of opportunities for such things this year because both Jupiter and Saturn are in your area of love and enjoyment, but you will also have to deal with some frustrations. It's going to be vital to look deeper at your motivations and consider your goals if you discover that something is preventing you from being yourself and having fun.
You might find a lot of fulfillment in an existing or new relationship if you can get beyond some of the challenges Saturn places in your way. This year, there's a possibility you'll meet someone new.
They'll probably be able to introduce you to a fresh outlook on life that you hadn't previously considered. Whatever occurs in your relationships this year will teach you lessons and help you improve in the long run.
This year, it's crucial not to put off taking care of your obligations, whether they include your kids, if you have any, or just interacting with certain other individuals in general. You will achieve remarkable outcomes if you put effort into the individuals and undertakings that rely on you.
Jupiter does leave the unique and fun sector over the summertime and dip his feet into the "daily grind" sector from roughly mid-May through July.
This ought to give you a preview of your future working circumstances. There might be a way for you to enhance your working environment or simply feel more content with your obligations. You ought to feel happier and more fulfilled in this portion of your life as a result of this.
Right now, Libra, you're going through some pretty basic adjustments in who you are. Some of this turmoil may already have started to affect your most fundamental subconscious behaviors. Maybe it is based on how close you are to someone, how much you rely on their resources, or how much they rely on yours.
Right now, you're discovering your values, and you can feel the change happening all around you. You will be led on this new route by events and signs that become evident to you. These adjustments you go through will be very noticeable in the forthcoming years. The mysteries of life are on your mind, and now is a great time to explore new ideologies or spiritual practices.
The cosmic wheel may turn for you this year, which is another distinct possibility. Get ready to collect what has been sowed. The universe has spoken. Examine your daily tarot reading to learn more about your day or the near future. The stars have spoken. If you are looking for more insights about your day or near future - check your daily tarot reading >>