scorpio
Your Yearly Horoscope for
2023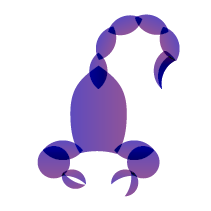 The foremost private aspects of your life's foundation should be reviewed in the upcoming year. This year will force you to search within yourself to adapt and create room for an upwards rise that will come in the years ahead because Saturn and Jupiter are both entering your deepest sphere.
Saturn is starting to affect your home life and personal relationships psychologically, so if you haven't fully resolved any difficulties from the past, be ready for them to come up again. You would be capable of resolving these issues with Jupiter's assistance if you can confront them now, possibly through treatment.
You are receiving encouragement in this area, but you are also being urged to adopt a practical attitude and put forth the effort necessary to remove some of these artifacts from the past, including those from earlier generations. This might also benefit your existing home situation because any lingering problems can be identified and resolved to foster a happier home environment.
You might be working through an identity crisis at the moment. You might even experience feelings of loss or the death of a loved one. You might lose some of the sources of assistance you relied on in the old days while gaining access to other ones. Maintain your spirits above water and take in all of the training the world may be trying to teach you, even though this isn't the simplest of times. It is a potential for a fresh start and an opportunity for you to step fully into your energy.
This transit has a more concrete connection to your residence. This will be a good opportunity to make ensure you get any repairs completed, if there are any. You should remember to study your purchases carefully and don't skip over any specifics. This is a lucky year to add on to your home, enlarge it, or perhaps even buy new real estate.
Before mid-May, as well as from August till year's end, are the best periods to purchase; since several important planets are in retrograde over the summer, it is advisable to review and reassess what you have already learned rather than taking immediate action.
The first week of July is particularly risky because Mars, your natal ruler, is square Uranus and opposing Saturn. Conflicts may arise in your professional life or with people in positions of authority that you may think are impeding your desire. You can find the need to revolt at an unexpected time in your search for success and independence.
Overall, this year is ideal for reconnecting with your true self, giving attention to your house and family, and ensuring that you are building an existence that will sustain you. The universe has spoken. Examine your daily tarot reading to learn information regarding your day or the near future. The stars have spoken. If you are looking for more insights about your day or near future - check your daily tarot reading >>