scorpio
Your Yearly Horoscope for
2022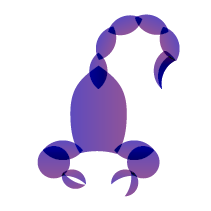 This coming year will be a time to review the foundations of the most private parts of your life. With Saturn and Jupiter both moving into your innermost sphere, this year will cause you to look within yourself to readjust and make space for the upward climb coming in years ahead.
Psychologically, Saturn is beginning to work on your personal and domestic life, so be prepared for issues from your past to reappear if you did not work through them completely before. If you can address these things now, perhaps through some sort of therapy, you will then be able to clear these things up with Jupiter's support.
You are getting a positive boost in this area, while at the same time being asked to take a realistic approach to do the hard work of clearing through some of these remnants from years gone by and even previous generations. This could also help you in your current domestic life, as any ongoing issues can be brought to light and worked through to create a more positive home sphere.
You may be going through some kind of identity crisis right now. Perhaps you even feel like a part of you is dying or you have lost a loved one. Some forms of support that you have been able to count on in the past may fall away and new ones may appear. This is not the easiest of times, but it is a chance for a new beginning and for you to truly step into your power, so keep your head above water and learn from all of the lessons that the universe may be throwing your way.
On a more tangible level, this transit relates to the place you call home. If there are repairs to be done this would be a good time to make sure you get that done. This is a fortunate year to expand or build on to your house, or possibly even purchase new real estate, however, you want to make sure you put some work into researching your purchase and don't skim over any details.
The best times to make big purchases are before mid-May and from August until the end of the year. During the summer we see several major shifts in planet alignment, so it is not the best time for decisive action, but rather to rehash and re-examine what you have learned up to that point.
Be especially careful of early Julyas your traditional ruler, Mars, is at a standoff. . There may be conflict in your career life or with authority figures who you may feel are getting in the way of your ambition. There is a chance you could feel the need to suddenly rebel in your quest for advancement and independence.
Overall it is a great year for you to get in touch with your inner self, and focus on your home and family and make sure that you are creating a life that will support you moving forward. The stars have spoken. If you are looking for more insights about your day or near future - check your daily tarot reading >>