aries
Your Yearly Horoscope for
2023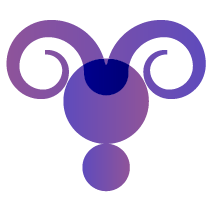 You have undergone a multi-year change in how you relate to your money, possessions, and core values. There is still a lot to be accomplished, even though you may recently notice a change in your values.
Your material belongings can either enable you or stifle you during this time. The planet of transition, Uranus, will make the necessary adjustments in your life. You can experience abrupt disturbances in this region if you are overly devoted to your goods or your method of making a living has become monotonous, but do not be alarmed! These will point the path for you to something greater and more satisfying. Realizing that you are undergoing this fundamental change in your belief system can help you to let it go without too much struggle.
You will notice that the necessity for group cooperation will become significantly more of a factor in your life as Saturn and Jupiter transition from your professional sector into your social circles, objectives, and ambitions domain. You will need to learn how to collaborate with those around you if you wish to achieve your objectives, and you ought to care more about the bigger picture than just your individual successes, as this might have been the situation in the past.
Ask your friends and acquaintances to find out where your next moves might lead you. Unknowingly, your siblings, cousins, neighbors, and other neighborhood members may hold the secret to a new passion or career path for you. The commonplace might inspire!
You will experience a time throughout the summer when you open your heart to a fresh spiritual journey. Additionally, you might run into an instructor of some kind who can open your eyes to aspects of yourself that you had never considered.
Although now is not the best time to embark on any significant spiritual projects, knowing that this energy will be upon you in the upcoming years will be beneficial.
A part of the activity you are being required to undertake with these categories of people to achieve your higher goals may be in direct opposition to your need to unshackle from your previous value- and money-based routines. Even though it might present some difficulties, you will work to overcome problems throughout this year.
This year is all about collaborating with people to create a better future, and if you're able to start using all of your relationships, you will receive the backing you require to produce your ideal outcomes in the future. Additionally, they'll be capable of reflecting on the truths about who you are. It is crucial that whatever objectives you set for yourself at this time are for the good of everyone. You may build the most prosperous future for yourself in this way. The universe has spoken. Examine your daily tarot reading to learn more about your day or the near future. The stars have spoken. If you are looking for more insights about your day or near future - check your daily tarot reading >>